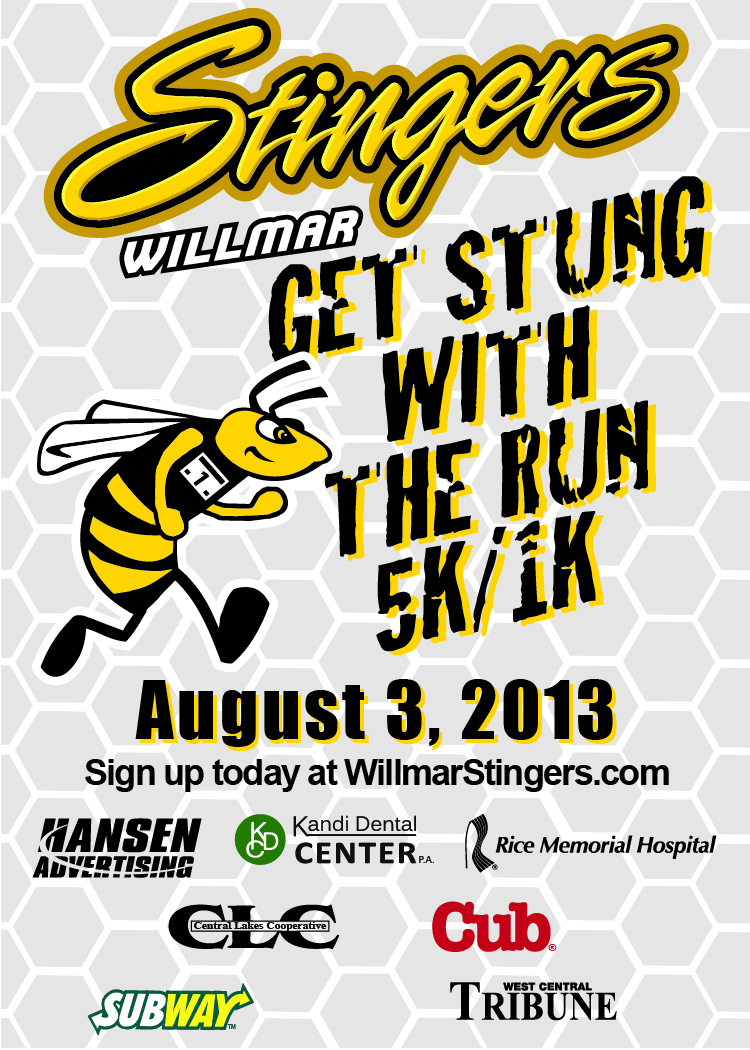 Saturday, August 3, 2013
3rd Annual Get Stung with the Run 5k Run/Walk and 1K Kids Fun Run
Presented by Central Lakes Cooperative, Kandi Dental Center, Rice Memorial Hospital, Cub Foods, the West Central Tribune, Hansen Advertising and Subway
Bill Taunton Stadium * 1401 SW 22nd Street, Willmar, MN
Join the Willmar Stingers Baseball Club on Saturday, August 3 and participate in a morning of health and fitness starting with the 1K Kids Fun Run at 9:00am and ending with the 3rd Annual Get Stung with the Run 5K Run/Walk at 9:30am. 100% of the proceeds from the Run will benefit the Kandiyohi County Area Family YMCA Mentorship Program.

SCHEDULE & DESCRIPTION
The Get Stung with the Run event will begin with the 1k Kids Fun Run at 9am on Saturday, August 3 at Bill Taunton Stadium, home of the Willmar Stingers.
The 5K Run/Walk will begin after the 1K Kids Fun Run at approximately 9:30 a.m. The 5K will be timed and managed by Pickle Events and it will be a chip timed event. The course begins at Bill Taunton Stadium and winds through residential neighborhoods on hard surface roads with a few gradual inclines. The highlight of the course will be the "stadium finish" inside Bill Taunton Stadium. Runners will complete the race by entering the ballpark through the right field corner, following the warning track along the outfield fence, and down the third base line finishing at home plate. Family and friends will have the opportunity to sit in the grandstand behind home plate to cheer on runners to the finish line.

All 5K Run/Walk & 1K Fun Run registered participants will receive a performance t-shirt designed and created by Hansen Advertising and free Subway sandwiches and refreshments after the race on location.

PACKET PICK UP & FINAL REGISTRATION
All participants will have opportunity to pick up their runner packets containing the number bibs and chips between the hours of 8am and 9am Saturday, August 3 at Bill Taunton Stadium. Final registrations will also be taken until 9am. Runners that register after July 31 are not guaranteed a t-shirt.

AWARDS
The Get Stung with the Run will award a trophy to the 1st, 2nd & 3rd place winners of the men's and women's 5K. A commemorative "Get Stung with the Run" item will be awarded to the 1st place finisher in each age division. The age divisions that will be awarded are as follows: 14 and under, 15-19, 20-24, 25-29, 30-34, 35-39, 40-44, 45-49, 50-54, 55-59, 60-64, 65-69 and 70plus. Awards will be presented to all winners shortly after the race at Bill Taunton Stadium.


REGISTRATION
Registrations Fees and Dates

Click Here to Register Online

Click Here for Mail-in Registration Form
Click Here for 5K Race Map

Registration Dates & Fees for 5K
April 1- June 30 @ 11:59pm $20.00
July 1 – July 31 @ 11:59pm $25.00
August $30.00 (t-shirts may not be available for day-of registrations).

1K Fee
$15.00